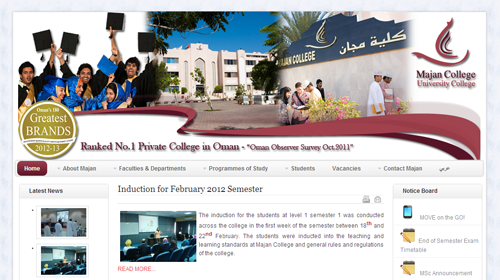 We happily announce the launching of the totally new Majan college website, which is containing several new features, such as;
More organised content structure.
Easy to use contact list and simplified approach in sending emails to college staff.
Majan College location on the map.
Control Panel in the upper right corner to alter the font size
Photo gallery.
Facebook fan box.
Quick links to Majan on Facebook and Twitter.
Search engine for searching the site content.
Enhanced structure to manage the archived news.
Quick Access menu which links the visitors to a variety of resources.
So visit our college website at: www.majancollege.edu.om  
Your feedback and opinions would be highly appreciated to enhance the overall website experience in order to build a distinctive digital present for our college. So don't hesitate to send me your observations, ideas or anything that could improve the website.
Website Administrator
Mohammad K. Yeassen
mohammad.yeassen@majancollege.edu.om