Dear Students,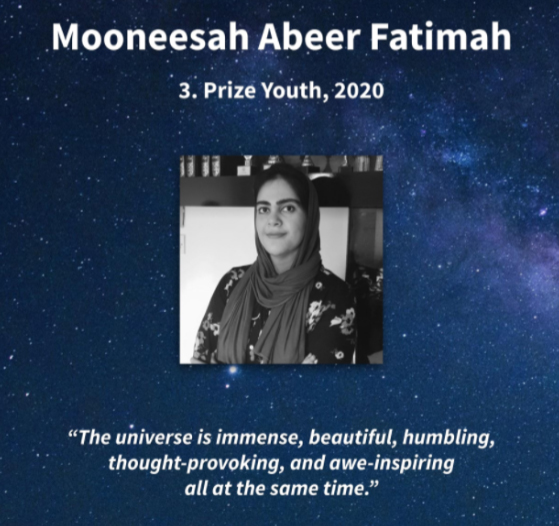 Mooneesah Abeer Fatimah, a student of Majan University College and the University of Bedfordshire, UK, currently pursuing MSc in Computer Security and Forensics, participated in the International Astronomy and Astrophysics Competition (IAAC) and won third place (Youth category) worldwide.
Prior to that she won the national award in Oman and became an IAAC ambassador for Oman. More than 6,500 students from 98 countries participated in the global IAAC event. IAAC is one of biggest, toughest and most prestigious international online competitions that provides an opportunity for students to prove their skills and unleash their creativity in the fields of astronomy and astrophysics. 
The competition has three rounds: qualification, pre-final and the final round. Mooneesah successfully qualified for the final round. Each round required problem-solving skills and comprehensive knowledge about astronomy and astrophysics. The final round is of 40 minutes and is usually held in a college under the supervision of a teacher. However, due to Covid-19, the test was taken from home, using a camera that showed the student's face, laptop screen and background, including the background noise. Mooneesah scored 39 points and was placed among the top 1% of all participants. Mooneesah received certificates, a cash prize, publication in International Youth Journal (an International scientific journal), publication of a written interview on their social media, and was featured on the winners' page on their websites.