Dear Students,

We have some good news to share! 🥳🎉

GHEDEX 2023, one of the most anticipated higher education expos in Oman, was successfully held from 30th April to 2nd May at the Oman Convention and Exhibition Centre (OCEC), Muscat, and from 3rd to 4th May at Majan Hall in Sohar. The event was an outstanding showcase of the latest educational trends and innovations, providing students, parents, and professionals with a unique opportunity to explore a vast range of academic programs and institutions. Majan University College (MUC), the main sponsor of the event, demonstrated its unwavering commitment to academic excellence and sustainability by setting up an impressive booth that featured digital screen signage and e-brochure kiosks. Going green was one of MUC's sustainable goals for this GHEDEX, and they managed to demonstrate it successfully.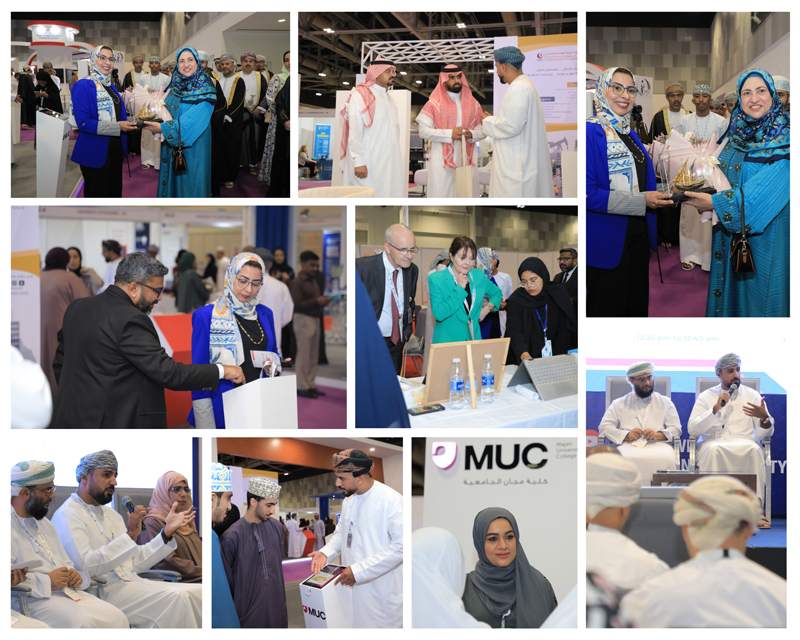 MUC won three prestigious awards at the Excellence in Education event, which was held on the second day of GHEDEX. The awards were in recognition of MUC's outstanding performance in both Student Support & Counselling, and Entrepreneur Development. Ms. Nabila Al Macki, the Deputy Dean for Academic Affairs, and other key members of MUC staff, received the awards from His Excellency Sayyed Salim Musallam Al Busaidi, the Undersecretary for the Ministry of Labour.
Dr. Ammar AlBalushi, the Head of Faculty of Business Management, shared valuable insights on fostering entrepreneurial ecosystems at the Conference on Innovation and Entrepreneurship at Omani Schools, Colleges, and Universities. He shared his thoughts and ideas in line with Oman Vision 2040's goals for a brighter, more innovative future. Ms. Nabila Al Macki participated in a CEO panel that discussed Innovation and Incubation Ecosystem in Oman on Day 2 of GHEDEX. She highlighted the importance of nurturing an entrepreneurial spirit among the youth and creating a supportive ecosystem that enables them to thrive.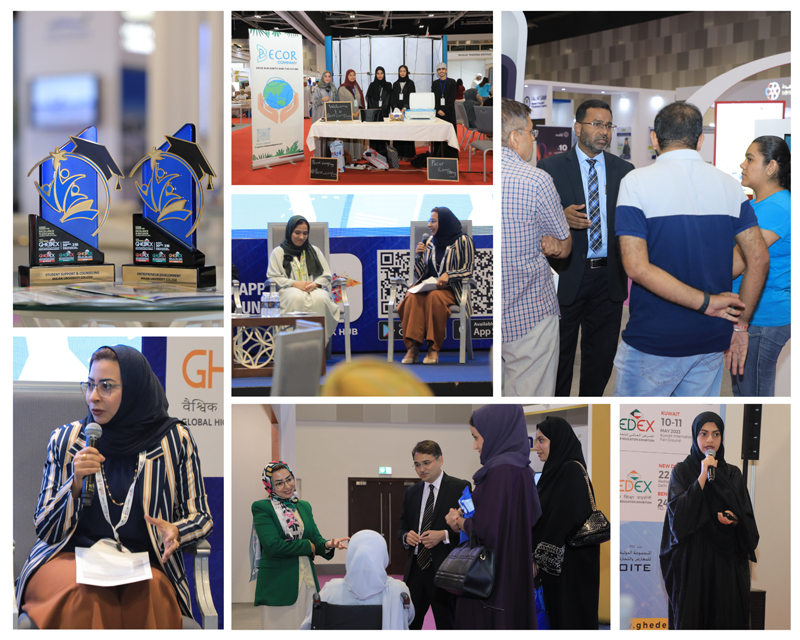 The students of MUC also made use of the Oman Innovation Oasis Expo at GHEDEX to promote their sustainable business called Pecor, a technology that can remove ink from papers so that it can be reused again instead of discarding. The award-winning business idea received a lot of appreciation from students, parents, and professionals at the event. The Majan Training Institute (MTI) also showcased its courses for professionals at the Workshop segment at GHEDEX on all three days of the OCEC event. MTI is the refreshed brand of the previously known Majan Training Unit, which offers short courses and training programs for students and professionals in the region. Over the three days at OCEC, MUC promoted its programs to potential students, parents, and professionals. With a strong focus on academic excellence and sustainability, MUC demonstrated its commitment to achieving Oman Vision 2040's educational goals.
Click to view more photos
In conclusion, GHEDEX 2023 was a resounding success, with MUC playing a leading role, both as a sponsor and by showcasing its academic programmes and commitment to academic excellence and sustainability. With its innovative outlook and dedication to the task of nurturing student success, MUC continues to maintain its position as one of Oman's premier higher education institutions.