Majan College hosts Turintin Academic Integrity Seminar 2015 in Oman
by
Roshan Kolar
-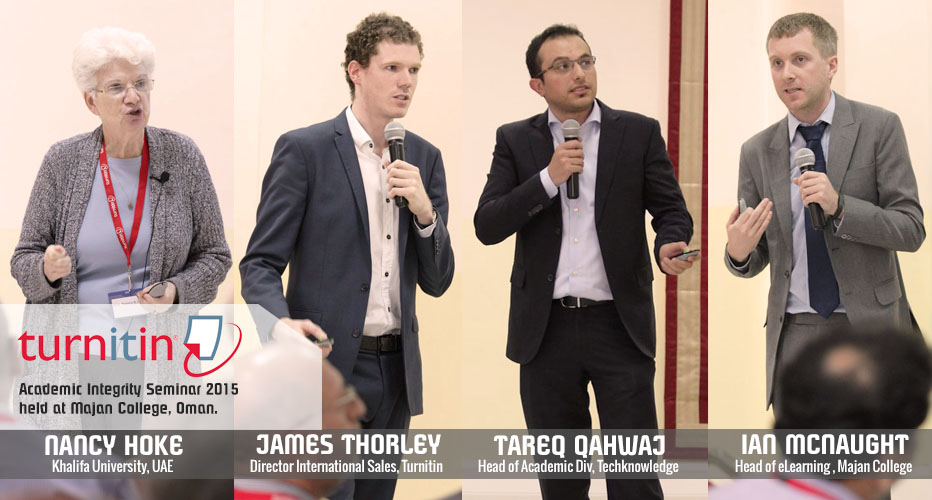 Majan University College hosted Oman's very first Academic Integrity workshop on Wednesday 25th February, in partnership with Turnitin and Techknowledge. Turnitin is the global leader in evaluating and improving student learning, their system is used extensively by Majan University College and other institutions in Oman to check student papers for similarity with other sources and assist academic staff provide rich, constructive feedback on student work. The event is the second of two Middle East Academic Integrity workshops, the first was held at the American University of Beirut on the 23rd February 2015.
James Thorley, Director of International Sales for Turnitin opened the event, giving an overview of upcoming features and developments in the Turnitin suite of products. Ahmad Masri, of Techknowledge followed with a talk on Turnitin's partnership with Al Manhal aimed at enhancing anti plagiarism efforts in Arabic language literature. Ian McNaught from Majan University College shared on the challenge of academic integrity and intellectual property across cultures and generations. Nancy K. Hoke from Khalifa University, UAE gave some practical advice based on her experience of using Turnitin at her institution.
The presentations were interspersed by lively and frank discussions and debates on the issue of academic integrity and the efficacy of Turnitin as a useful tool. Over 70 delegates were in attendance, representing different institutions in Oman. The event was a great success and a valuable contribution to the academic development of Oman.
For more pictures of the event, check our official Flickr account: Click Here.